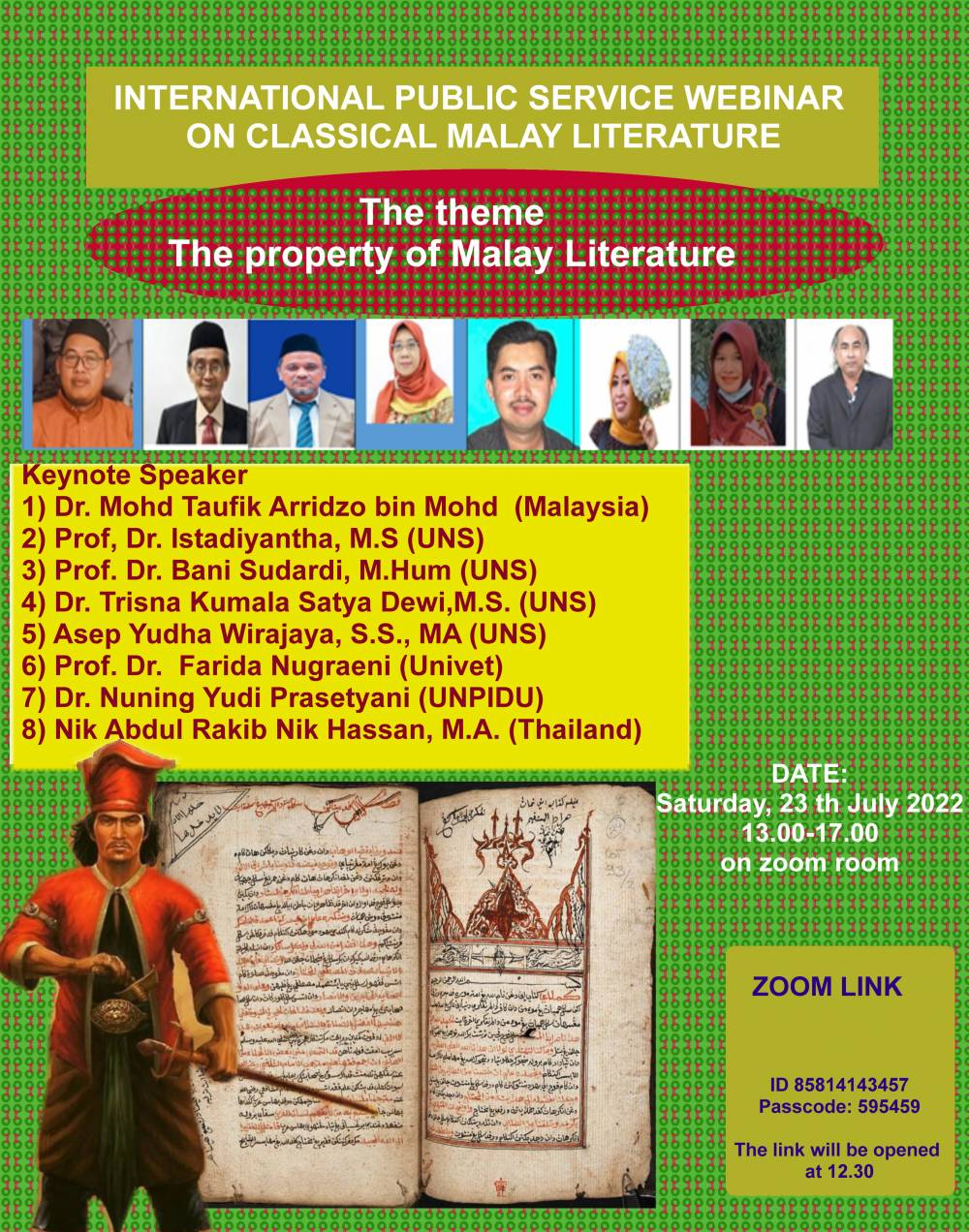 INTERNATIONAL PUBLIC SERVICE WEBINAR ON CLASSICAL MALAY LITERATURE
INTERNATIONAL PUBLIC SERVICE WEBINAR ON CLASSICAL MALAY LITERATURE
Introduction
Research Group of Malay Philology, Faculty oleh Culture Science, Sebelas Maret University, proudly presenst INTERNATIONAL PUBLIC SERVICE ON MALAY LITERATURE. This event held in joining with Visiting Professor Programs of Universitas Muhammadiyah Malang and Malaya University, Veteran Bangun Nusantara University Sukoharjo, University of Pesantren Tinggi Darul Ulum Jombang, Prince Sonkla University, Thailand, Defense University, Jakarta, University of Riau Kepulauan, Batam, and Radio Republik Indonesia, Surakarta
Theme:
Malay literature has a great contribution to Indonesian literature because the basis of Indonesian literature is Malay literature. However, Malay literature is less well known to the general public. Therefore, we will hold a public service webinar on Malay literature and its aspects with the theme: PROPERTY OF MALAY LITERATURE
Date and Place:
Webinar will held on 23th July 2022 on 13.00 PM. The host will stay ini Faculty oleh Culture Sciena, Sebelas Maret. The link will be informed soon.
Keynote Speaker:
Dr. Mohd Taufik Arridzo bin Mohd Balwi ("Javanese Muslim Migration to Malay in 19th Century" (Akademi Pengakajian Melayu, Univerity Malaya).
Prof, Dr. Istadiyantha, M.S. "The Secret Behind Sufisme Malay Literature" (Universitas Sebelas Maret)
Prof. Dr. Bani Sudardi, M.Hum (Wayang in Malay Literature" (Universitas Sebelas Maret)
Dr. Trisna Kumala Satya Dewi, M.S. "Literature from Oral Tradition in Malay Literature" (Universitas Sebelas Maret)
Asep Yudha Wirajaya, S.S., MA. "Malay Poetry" (Universitas Sebelas Maret)
Prof. Dr. Farida Nugraeni "Ekranisasi on Malay Literature" (Universitas Veteran Bangun Nusantara)
Dr. Nuning Yudi Prasetyani "Linguistic and Culture Communication in Malay Literature" (Universitas Pesantren Tinggi Darul Ulum Jombang).
Nik Abdul Rakib Nik Hassan, M.A. "Malay Literature in Thailand" , (Nusantara Studies Center, Thailand).
COMPANION PAPERS
You can also donate a companion paper with the main theme "Malay Literature". Papers will be published in the form of proceedings with an ISBN. Each participant will be asked for a co-publishing fee and postage. For those of you who want to send a companion paper, we are also waiting for your participation. Terms of companion paper:
1. Title
2. Author, origin of institution, email, cellphone
3. Abstract
3. Introduction
4. Method (if any)
5. Discussion
6. Conclusion
7. Bibliography
8. Attachments if any
9. The paper is made up of 1.5 spaces of 9-12 pages. Roman letters 12.
10. Abstract submitted no later than: 2 July 2022
11. Full paper submitted no later than 30 July 2022
Further information please contact us wassahap 085728488136 or email banisudardi@yahoo.co.id
Or Join my Wasshap group:
https://chat.whatsapp.com/FMtwOMiOpcIJif8Qi28tb5